Fung Ming Chip 馮明秋
(b. 1951, Guangdong, China)

Self-taught, Fung is primarily an artist of the word: essayist, novelist, poet, playwright, zhuan ke (seal carving), shu fa (calligraphy). He was born in Guangdong, raised in Hong Kong and moved to New York City in his mid 20's. Filling the artist within since childhood, his encounter with visual arts in Manhattan and beyond re-awakened this spirit. Responding with his unique approach to the written word, he undertook exploring seal carving and Chinese calligraphy.
Already recognized for re-construction / deconstruction Chinese calligraphy, Fung uses orthodox materials with innovative execution. After discovering calligraphy is an art of time, he looked for further possibilities, intentionally extending and expanding the tradition, modernizing the medium by creating over a hundred different script styles. By breaking boundaries of this revered art form, he created a new language in calligraphy, allowing it to be widely understood today.
This new series of twelve hanging scrolls, each with a small painting mounted above a large, delves further into the concept of time. The small paintings, all contain a continuation of the numerical sequence and an image from the twelve daylight hours. The large image below contains the continuation of number series and an image to engage in dialogue with the above.
Using line, continuity and perceived meaning of image, Fung maintains the characteristic of calligraphy, without Chinese characters.
Among his many international exhibitions, Fung had a major solo retrospective at the Taipei Fine Arts Museum in 1999. He was artist in residence at Cambridge University, and his work is included in major private and institutional collections around the world, including The Metropolitan Museum of Art, New York, White Rabbit Collection, Sydney and Israel Museum, Jerusalem. He has also been active as a painter, photographer, and sculptor. In 2008 he created Les Poemes du Mandarin tableware pattern for Hermes and currently resides in Hong Kong.
Most recently, Fung has been invited by the Metropolitan Museum of Art, New York, to participate in an upcoming exhibition Ink Art: Past as Present in Contemporary China, which is held from 11 December 2013 to 6 April 2014.


Has been with Sin Sin Fine Art since 2009.


EXHIBITION HISTORY • Full CV in PDF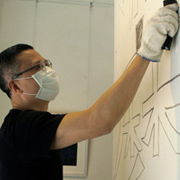 photo ©Sin Sin Man